Hospitality
Welcome Guides
for Short Term Rentals and
Boutique Hotels and Resorts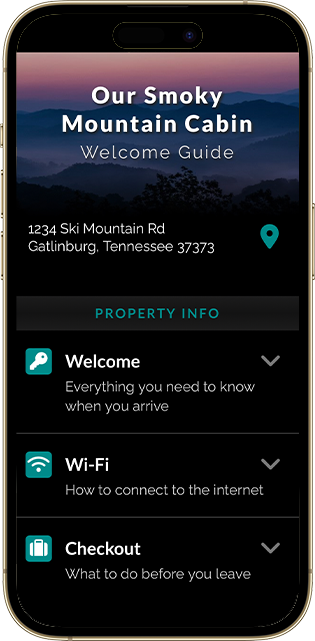 Why PocketPage?
Answer questions before they're asked.

Reduce or eliminate the need for guests to contact you during their stay.

Earn more five star reviews.

By giving your guests all the information they need for a frustration-free stay, you'll earn more five star reviews and repeat bookings.

Protect your property.

Provide detailed instructions for equipment, amenities, and appliances. You will reduce damage from misuse.

Spend more time building your business.

We can design your guide for you. There's no software to learn. You'll save the time and effort of data entry and configuration.
Frequently Asked Questions
How do guests access the guides?

You will receive a QR code to print and post in the property and a link to include in your welcome email.

Do guests have to download an app or sign up?

There is no app to download. And your guests do not have to enter any personal information to access the guide. It works with any web browser on any modern phone or device.

Can guides be created for any market?

Yes, the guide can be used for any type of property in any market.

How much does it cost?

Guides are $9.95 per month per property. If you want us to design your guide for you, the design fee is $150 per property.